Breast Surgery
Breast Implant Replacement
at Cadogan Clinic, London's Leading Cosmetic Surgery Specialists.
Get in touch
Award Winning Specialist Clinic
We've won 12 top industry awards since 2010 and regularly feature in the national and international press.
Industry Leading Consultants
We've invited only the very best consultants in the country to practice with us.
0% Finance Options Available
We have 0% finance options available. Select the best cosmetic surgery partner, without having to compromise on quality or results.
GMC Registered Surgeons
All of our surgeons are registered with the General Medical Council.
At a glance
Shower
Shower after 1 week
Reasonable Mobility
After 1 day
Sexual Activity
Restricted activity after 4 weeks
Sleeping on back
1-2 weeks
What does it involve?
Breast implant replacement surgery typically takes place under general anaesthetic and lasts between 1 to 2 hours depending on the size and shape of the new breast implants, the technique your surgeon employs and whether combination surgery is undergone at the same time.
Your surgeon will start the procedure by removing the original implants via incisions made on the original scar site. If the new implant is similar in terms of size and shape, then the existing capsule will suffice and replacement surgery can be quick.
If the new implant is different from the original implant, then surgery is more complex as the capsule will need to be altered (either enlarged or reduced) in order to accommodate the new implant.
Once the new implant is in place, your surgeon will suture the breast along the your existing scarring line to leaving minimal scarring.
What is Breast Implant Replacement?
A state of the art, award winning clinic.
We were founded in 2004 by world renowned plastic surgeon Mr Bryan Mayou, best known for his pioneering work in the area of liposuction, lasers and microvascular surgery. Today we lead the field in regenerative medicine and continue to collaborate with the leading pioneers in our field.
About Us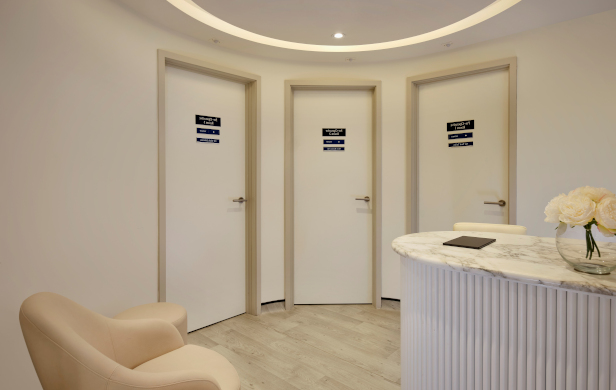 2021
Best Clinic - Highly Commended
Aesthetics Awards
2021
Hall of Fame Award
My Face My Body Awards
2020
Best Clinic Award
My Face My Body Awards
2019
Best Clinic Award
My Face My Body Awards
2019
Best Private Hospital in the UK – Finalist
LaingBuisson Awards
2019
Best Private Hospital in London - Winner
Healthcare and Pharmaceutical Awards
2018
Best Clinic in London - Runner up
Aesthetics Awards
2018
Best Private Healthcare Company - Winner
Chelsea Monthly
2018
Best Clinic - Highly Commended
at MyFaceMyBody
2018
Best Cosmetic Surgery Practice - Runner-up
My Face My Body Awards
Load more
Get in touch
Fill in this form and one of our friendly staff will be delighted to help with your enquiry.
---
---
---
---