Medically Reviewed April 2023, by Mr. Bryan Mayou (GMC: 1414396) - founder of the Cadogan Clinic and one of the world's leading plastic surgeons
What is a Neck Lift?
A neck lift, also known as a lower rhytidectomy, is a surgical procedure which removes excess fat and tightens the skin.
The skin on the neck is delicate and is prone to loss of tone and weight gain. The ageing process causes skin to lose elasticity, causing it to wrinkle and sag. The neck is often the very first part of the body to show these signs.
Neck lift surgery tackles loss of tone around the jaw, tightening the skin and removing any excess fat to redefine and sharpen the jawline, also resulting in a more slender and lifted neck.
Neck lift surgery is often combined with a facelift or chin or facial liposuction, achieving a more enhanced result overall.
Get in touch
Why do people have neck lift surgery?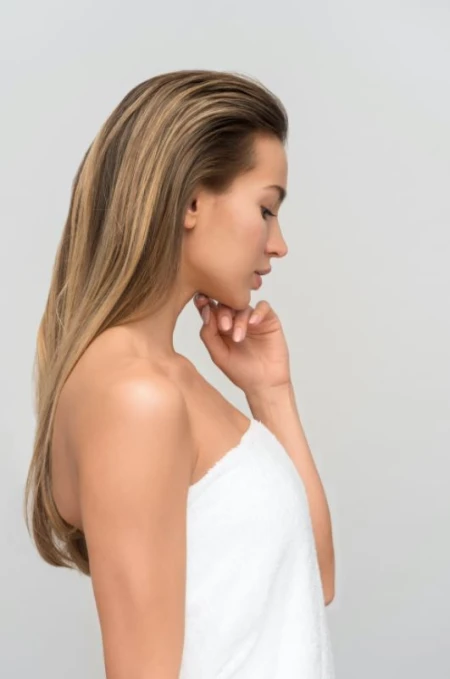 As we age, the face and neck areas naturally drop and sag as our skin loses elasticity. This can be exacerbated by genetics, weight change and lifestyle factors such as smoking.
Stretched neck skin is unlikely to shrink back naturally and typically cannot be tightened with diet and exercise - surgical intervention is often the best way to achieve the desired results.
Patients may find that a sagging neck and lower face gives them a closed appearance, which can make them look sad and unapproachable. Neck lift surgery will tackle this by tightening and toning the neck and jawline, resulting in a slimmer and lifted neckline with smooth skin. Added procedures such as liposuction will target concerns such as a double chin.
Many people find these signs of ageing significantly impact their confidence, making them feel self-conscious and uncomfortable in social and professional environments. Neck lift surgery can alleviate this psychological impact and make patients feel happier in their own skin.
Who is suitable?
At Cadogan Clinic, our consultant surgeons will assess whether you are suitable for neck lift surgery in a bespoke one to one consultation.
Your surgeon will examine your neck and assess the amount of excess skin and fat that can be removed and tightened. They will discuss your expectations of surgery and ensure you understand the results that are possible for you from a neck lift. They will also assess your general physical and mental health to make sure you are suitable for a general anaesthetic or sedation procedure, this may include your weight, and any medical and mental conditions you have.
You must be over 18 to have this procedure.
What is involved in a Neck Lift?
There are two neck lift techniques to be aware of.
The neck lift is performed under general anaesthetic meaning you are fully asleep and unaware of your procedure, or under sedation, meaning you are awake, but are completely comfortable and have no recollection of the procedure afterwards. The standalone neck lift takes between one and two hours to complete.
There are two techniques your surgeon can choose to use when undertaking a neck lift. A combination of both techniques above may be used to achieve optimal results.
This procedure is effective as a standalone alone treatment but, where necessary, is combined with a facelift to give dramatic results. Your surgeon will discuss this with you in your initial consultation and recommend what is best for your individual case.
The two techniques your surgeon will use in your procedure are:
Cervicoplasty
The Cervicoplasty focuses on removing excess skin only. The excess skin around the neck is removed before the remaining skin is repositioned over the neck and sutured back into its new position. This results in a smoother and more youthful appearance. This method can be combined with a facelift to further rejuvenate the whole facial area and liposuction or surgical excision if chin reduction is also required. A cervicoplasty can also be combined with the Platysmaplasty technique to achieve optimal results.
Platysmaplasty
This is a more comprehensive neck lift technique involving manipulating deeper layers of tissue to tighten and sculpt the underlying muscle of the neck which is called the platysma. The surgeon will make an incision in the hairline at the side of your face, which continues around the back of the ear. Once the surgeon has tightened the muscle, the skin is pulled taut and the incisions behind the ear are closed. By adjusting the underlying muscle, not just the skin on top, this technique achieves more dramatic results as it can reduce the banded appearance, or folds, of the neck.
What is a Mini Neck Lift?
A mini neck lift, also known as a one stitch neck lift, is a popular surgery choice for younger patients who are less concerned about sagging skin but who still have the desire to achieve a smoother, more toned neck. A mini neck lift also helps to tackle the problem areas of the chin, jaw and jowls so can help to target concerns which are caused by issues such as weight loss, rather than ageing.
Surgeons employ the same techniques as a full neck lift, but this treatment can be targeted at a more specific area, with fewer incisions required resulting in less scarring and a faster recovery time.
This treatment is recommended for patients in their 40s or 50s who are showing the early signs of ageing. Your surgeon will assess whether your skin elasticity is appropriate for the mini neck lift to ensure the best possible result. If you are older or have a large amount of excess skin because of dramatic weight loss, you may wish to discuss alternative treatments with your consultant.
The results of a mini neck lift are not as long lasting as the full neck lift, so a patient may wish to consider further treatment or a full neck lift in the future to maintain a youthful appearance.