Body Surgery
Liposuction
at Cadogan Clinic, London's Leading Cosmetic Surgery Specialists.
Get in touch
Award Winning Specialist Clinic
We've won 12 top industry awards since 2010 and regularly feature in the national and international press.
Industry Leading Consultants
We've invited only the very best consultants in the country to practice with us.
0% Finance Options Available
We have 0% finance options available. Select the best cosmetic surgery partner, without having to compromise on quality or results.
GMC Registered Surgeons
All of our surgeons are registered with the General Medical Council.
Get in touch
Fill in this form and one of our friendly staff will be delighted to help with your enquiry.
---
Before and After Liposuction
At a glance
Surgery Time
1 - 1.5 hours
Reasonable Mobility
After 1 day
Sexual Activity
4- 6 weeks
Sleeping on back
1 -2 weeks
What are the options?
We are world leaders in the field of liposuction, so we only offer the most up-to-date and effective techniques available.
Traditional liposuction
Traditional lipo sees a tube inserted into the treatment area before the fat cells are sucked out. This method is typically used to remove small areas of fat under local (or general) anesthesia, for example from the neck or chin. Traditional lipo is highly effective and is the most straightforward procedure with the least potential for complications.
This is also the technique we use to extract fat to use in fat grafting procedures.
Microliposuction
Microliposuction is a minimally invasive technique, performed under a local anesthetic, which requires very little downtime. The procedure gets its name from the size of the tiny cannulas which are used to extract the fat in micro lipo. These are 0.9mm-2.3mm thick, compared to the industry average of 6-8mm thick cannulas.
This popular method works well on areas including the chin, underarms and jawline.
Smart liposuction or laser-assisted liposuction
This type of liposuction uses lasers to heat the fat in the treatment area, softening it and making it easier to remove via liposuction. All liposuction results in a tightening of the skin, but the laser enhances this as laser treatments can promote collagen production in the skin. This tightening is particularly noticeable in areas such as the inner thighs and arms, where the skin is thin.
Laser assisted liposuction is a minimally invasive procedure and results in minimal swelling and bruising.
Power assisted liposuction
This is a mechanically-enhanced form of liposuction. MicroAire and Lipomatic motorised cannulas move back and forth, sideways and rotate to remove the fat. This method is popular as it is less labour-intensive for surgeons but also produces some impressive results. The vibration allows the surgeon to remove tough fat more easily and quickly. In fact a recent study has shown that PAL removes 30 percent more fat than with manual liposuction. This method also results in less bruising and a shorter recovery time than other lipo techniques.
PAL is ideal for patients who have a large amount of fat to be removed or those who have undergone liposuction previously.
Water liposuction
Also referred to as BodyJet liposuction, water lipo delivers all that the original procedure does but it is particularly effective at targeting the most stubborn areas of fat, such as in the breast. Large areas of fat can be removed quickly and efficiently. The surgeon has the ability to inject local anaesthetic fluid at the same time as carrying out the liposuction.
Cellulaze
Cellulaze is a sophisticated laser treatment that targets the underlying cellulite tissue and fat and simultaneously tightens the overlying skin.
Please note that we do not use ultrasound techniques, such as Vaser, here at the Cadogan Clinic as we consider that it has no advantage and adds unnecessary complications.
What is Liposuction?
A state of the art, award winning clinic.
We were founded in 2004 by world renowned plastic surgeon Mr Bryan Mayou, best known for his pioneering work in the area of liposuction, lasers and microvascular surgery. Today we lead the field in regenerative medicine and continue to collaborate with the leading pioneers in our field.
About Us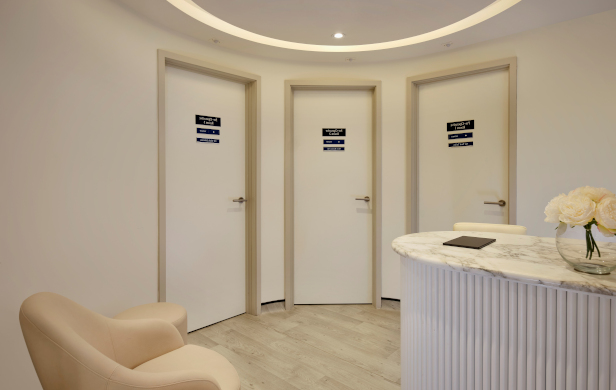 2021
Best Clinic - Highly Commended
Aesthetics Awards
2021
Hall of Fame Award
My Face My Body Awards
2020
Best Clinic Award
My Face My Body Awards
2019
Best Clinic Award
My Face My Body Awards
2019
Best Private Hospital in the UK – Finalist
LaingBuisson Awards
2019
Best Private Hospital in London - Winner
Healthcare and Pharmaceutical Awards
2018
Best Clinic in London - Runner up
Aesthetics Awards
2018
Best Private Healthcare Company - Winner
Chelsea Monthly
2018
Best Clinic - Highly Commended
at MyFaceMyBody
2018
Best Cosmetic Surgery Practice - Runner-up
My Face My Body Awards
Load more
Get in touch
Fill in this form and one of our friendly staff will be delighted to help with your enquiry.
---
---
---